Myotis V – Anthony Laguerre
Wednesday, May 3rd 2023, 8:00 PM – Festival Musiques Démesurées, Maison de la Culture de Clermont-Ferrand
Information and booking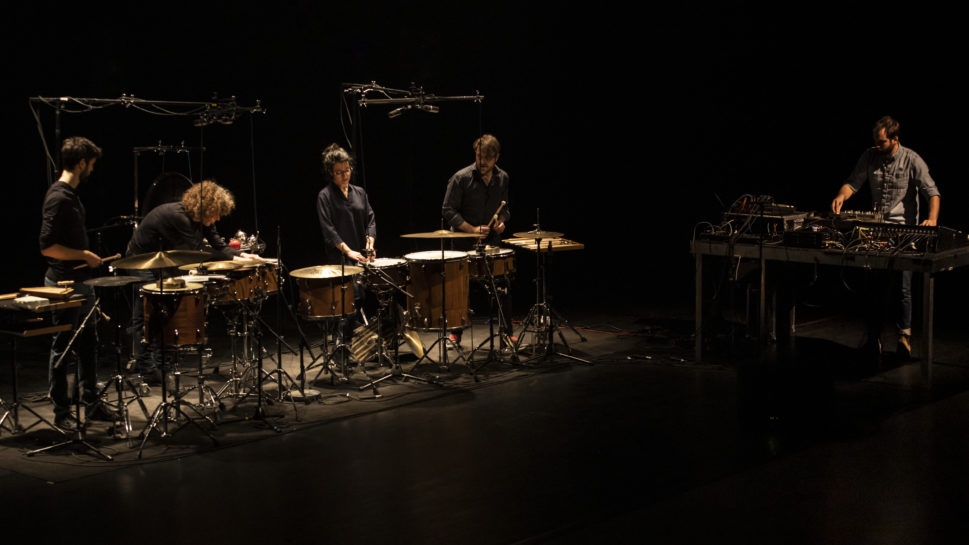 Since 2017, Anthony Laguerre has started a research around amplified drums with his solo Myotis.
Looking for the opposite of his primary energy, he found how to bring inaudible sounds into play by amplifying them with microphones.
Playing these sounds quickly made him want to hear them deployed, played and interpreted by the Percussions de Strasbourg, an ensemble that knows itself and has its own sound, with the aim of going to the essence, bringing his sonic vision of percussion and transmitting it.
More info about the programme Myotis V / Information and booking
Rains – Hosokawa, Kishino, Taïra, Takemitsu
Regentanz (2018), Toshio Hosokawa
Sange (2016), Malika Kishino
Hiérophonie V (1975), Yoshihisa Taïra
Rain Tree (1981), Tōru Takemitsu
Monday, May 15th2023, 8:00PM – Teatro Elfo Puccini, Milan (IT)
Information and booking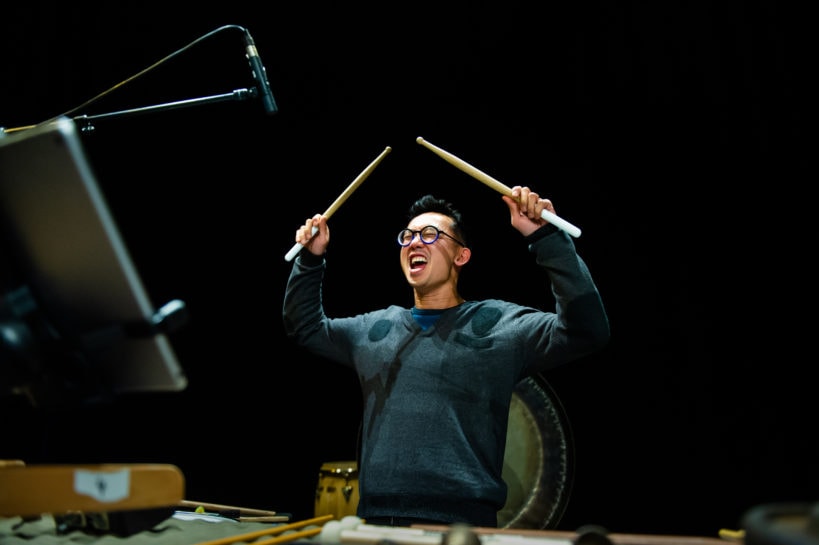 Dancing with the rain, in order to conjure, just for a moment, what we thought invisible.
Driven by curiosity, eagerness, passion, excellency and tradition, the Percussions de Strasbourg ventures to embody the unique energy of a programme in tribute to four Japanese composers with admirable universes.
Rain of petals, rain of screams, rain of silences, all these emotions are harmonized and kept in motion by the Percussions de Strasbourg.
More info about the programme / Information and booking
Programme Xenakis
Psappha
Rebonds A et B
Okho
Pléiades, claviers et peaux
Friday, May 26th 2023 – Taïwan International Percussion Convention, Taipei (TW)
Information and booking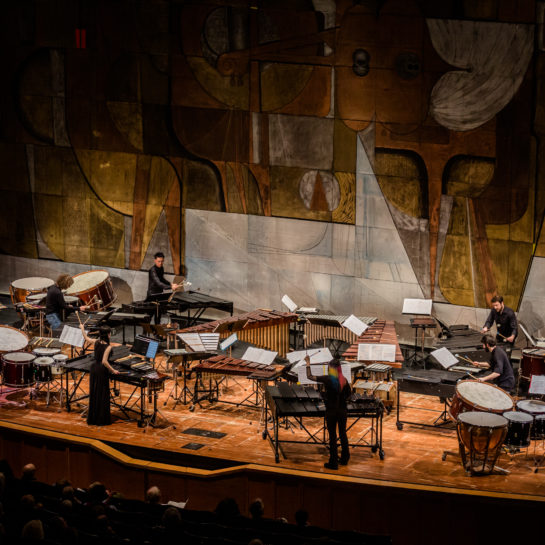 Pléiades, is one of the most beautiful plays written by Iannis Xenakis. The richness of the timbres, the freedom and the coherence of the composition make this work a unique rhythmic adventure.
The very essence of this piece lies in the fact that it cannot be delimited by a simple definition. The instruments used range from keyboards (vibraphone and marimba), to various percussion instruments, including the "sixxen" – a percussion instrument specially created for this composition.
More info about the programme / Information and booking
– New creation for young audiences –
Jeu Blanc – Denis Fargeton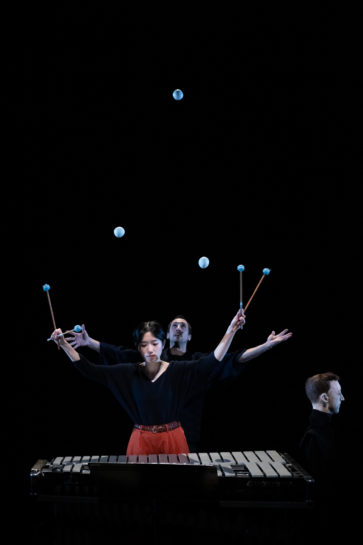 Composition and direction: Denis Fargeton
Performers: Hsin-Hsuan Wu (percussions) and Denis Fargeton (juggling)
Outside view: Minh-Tâm Nguyen
Lighting designer and stage manager: Claude Mathia
Duration: 45 minutes
Production: Les Percussions de Strasbourg
Creation: 29-30-31/03/2023, Hautepierre schools, Strasbourg (FR)
The encounter between juggling and music is first made through the use of deliberately simple forms.
A ball rises and falls. It has its own time. A repeated note is grafted onto it. Then the movement of a mallet and and the one of a ball begin to form one body.
The character's bodys also start to move. Especially the head. The arrangement of heads that turn and look is a vast choreographic and theatrical terrain. It is the promise of a dance.
On a stage reminiscent of a circus ring, we oscillate between the detail of a precise writing and the thick line of fairground eccentricities. The musical composition allows a thorough virtuosity to emerge within poor, bare structures.
In these hybrid situations where disciplines merge to create an unidentified aesthetic object, an automaton -programmed within the score itself- fills out this court of miracles with a little humanity.